Our Lady of Sorrows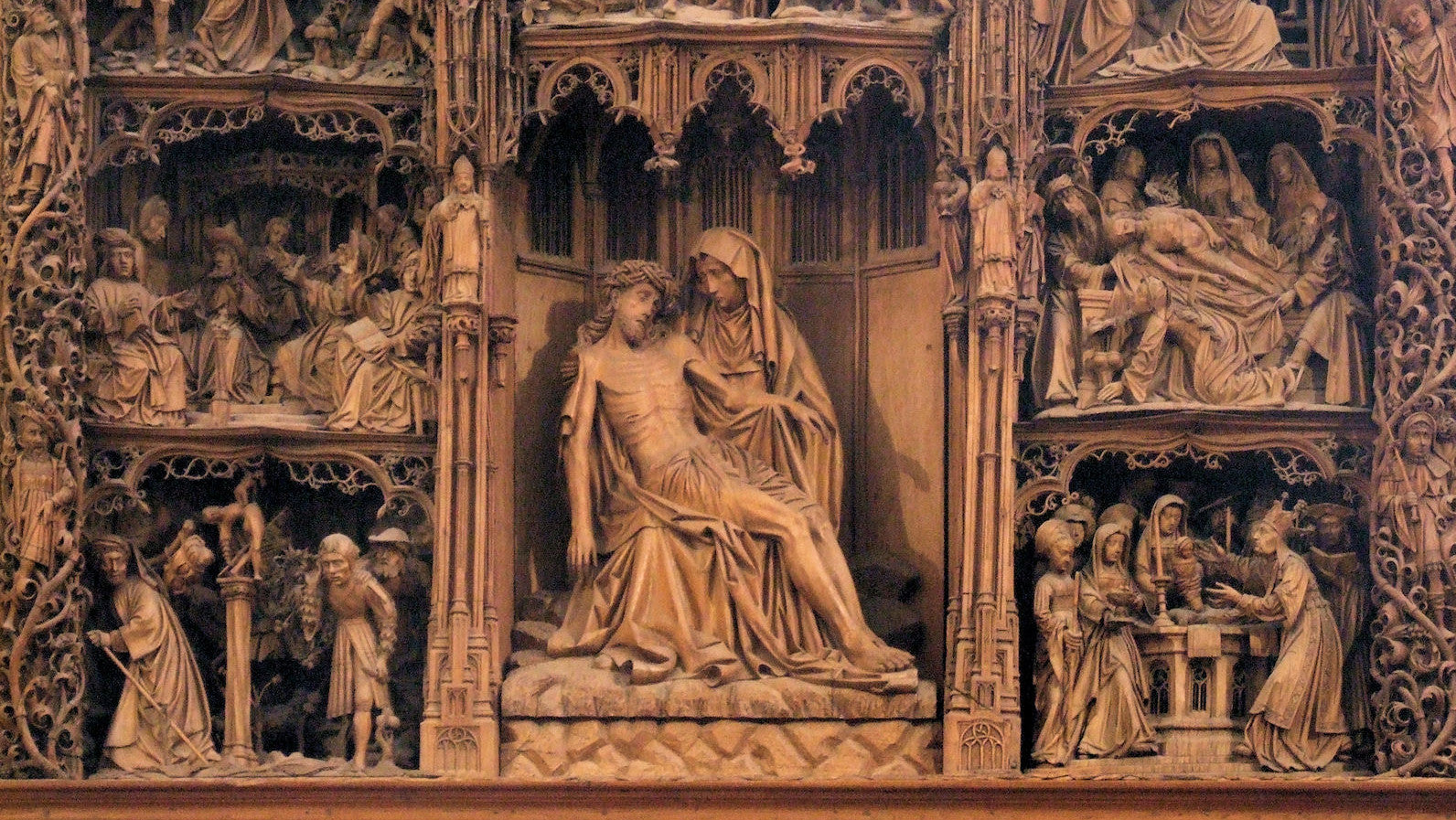 Note: The next section of the book club on Pope Pius IX will take place on Monday. As today is the feast of the Seven Sorrows of the Blessed Virgin Mary, we thought it appropriate to present the following short article from the September 1986 issue of The Angelus.
Yesterday a friend asked me to go with him to visit the hospital. His mother had taken ill in the morning and was hemorrhaging. "As yet," he said, "the doctors have been unable to find the cause." We had no sooner arrived than she began to spit up blood. A lump came to my throat and I wanted to cry.
To try and forget ourselves in such a crisis we turn to prayer and to Mary, our Mother in heaven. If anyone is able to console us and share our grief it is she. For Mary is the Mother of God and is all-powerful. Further, she is the mother of each one of us, for Our Lord gave her to me and to you from His Cross. Turning to St. John on Calvary, He said to him: "Son, behold thy mother." He spoke not merely to St. John, but in him He addressed each and every one of us. To me personally He gave Mary, His Mother, to be my mother.
A few minutes later Our Lord breathed forth His soul into the hands of His Father. For Him all was consummated. But for Mary, His Mother, who still stood at the foot of the Cross, there was yet much to suffer and much to do. Jesus had come to save men, to lead them to His Father, and instead of heeding Him, they murdered Him. As she stands there, the centurion approaches to pierce His Sacred Side. With a quick thrust of his lance he makes sure that Our Lord is dead. Immediately there gushes forth blood and water, the last drops of the life blood of my Lord. Mary stands there looking at the lifeless figure of her Son, so cruelly done to death.
Joseph and Nicodemus arrive with ladders and tools to take Him down from the Cross, and still she stays on, beside herself with grief and anguish, but waiting to take His Sacred Body into her arms. Gently they lower Him down and lovingly she receives Him, but not for long, for they must once more be separated. Night is fast approaching and He must be buried before dark, as tomorrow is the Sabbath. Gently they take Him away from her and lay Him in the tomb. "O, all ye that pass by the way, attend and see if there be any sorrow like unto my sorrow."
Let us then turn to Mary and try to share her sufferings for in sharing her, we share Our Lord's also. How we should now strive to lessen her sorrows, for by our sins we are the cause of the Passion! Our Lady did not suffer the physical pains of the crucifixion but in her heart she suffered everything that her Son suffered. She realized that He was God, that He was innocent, that He came to redeem us and we have rejected Him. But worst of all we have subjected Him to these inhuman tortures. How her heart must have bled! How justly she could have rebuked us! But, no, she goes to the other extreme and takes us for her children. What love!
If anyone is able to appreciate another's sufferings, it is Mary. If anyone is able to help another in his sorrows, it is Mary. Let us then in our troubles always turn to our Mother in heaven. Firstly because she can help us in our sufferings, then that we may share some of hers and so, in our own small way, try to alleviate the sufferings of the Mother of God. We can share her sufferings by bravely receiving the trials and sorrows which we undergo in this life, as coming directly from the hand of her Son. Mary, Our Lady of Sorrows, Mother of God and our Mother, pray for us, fortify us in this, our time of distress.
from Don Bosco's Madonna
---
Leave a comment
Comments will be approved before showing up.