The Conference for Catholic Tradition Has Begun!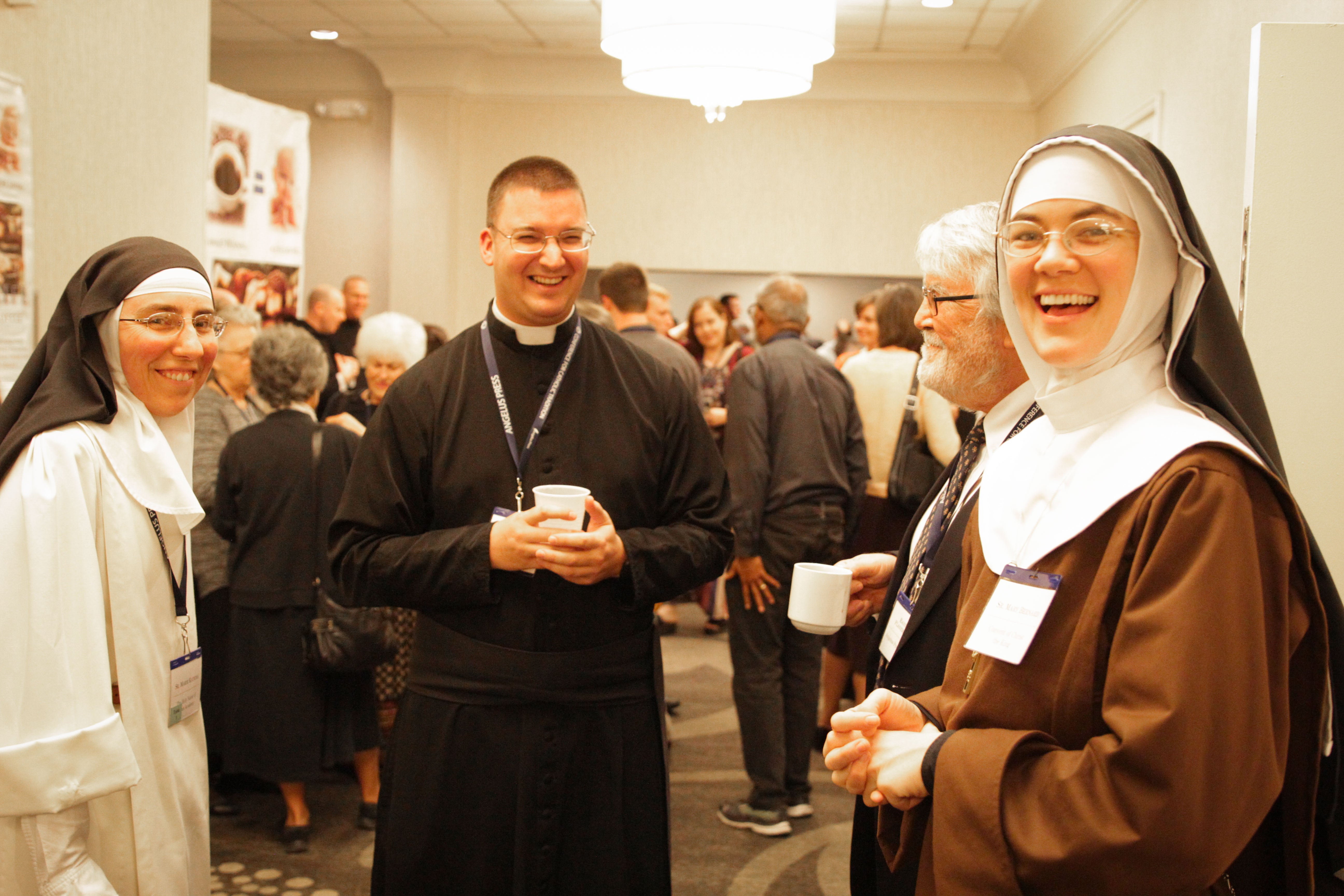 Vendors line the halls of the Hilton Hotel with everything from book vendors to coffee roasted by the Benedictine Monks of Silver City, New Mexico. I tried their famous fountain pens for the first time today. The scent of their French presses wafts down the hallway, mingling with the aroma of soups and casseroles from the dining room.
Seniors from La Salette crowd the around their school flag while local students from St. Vincent de Paul approach Franciscan and Dominican sisters, and even complete strangers, asking for contributions for a spiritual bouquet for Bishop Fellay. At the edge of all of this activity, I am running a little booth offering subscriptions to The Angelus Magazine. I am also advertising the Golden Quill Award, which, starting next year, will recognize the most exceptional contributing author of The Angelus Magazine. We are looking for new authors as well!
The lecture hall - which also serves as the chapel - is right across the hall from the dining room. Large canvases of Our Lord, Archbishop Lefebvre and the saints line the walls. The dining hall is arranged with round tables and tiger lily centerpieces adding splashes of color and a lovely fragrance.
Fr. Wegner opened with a beautiful introduction about the theme of this conference: "Life" - that life is sacred and that from conception to death, we are in the hands of God. The other talks were also diverse and thought-provoking.
All conference attendees have name tags - which is very helpful for remembering new friends - and perhaps for remembering some old friends, too! Smiles and laughter permeate the halls as attendees, priests and religious converse and catch up.
The meals have been served hot and delicious! I overheard someone say, "It's a vegetarian buffet." A bystander replied with a smile, "Oh, of course, it's Friday!"  It's a joy to be united with fellow traditional Catholics not only here at the conference, but also united in these little details that reflect the traditional Catholic spirit.
Soon, the evening will wrap up with Trivia. Looking forward to tomorrow - another full day of great lectures and activities!
To order the full audio lecture product from this year's conference, visit https://angeluspress.org/2018
---
Leave a comment
Comments will be approved before showing up.