SSPX Podcast: Dr. Brian McCall, Catholic Family News - Just War Theory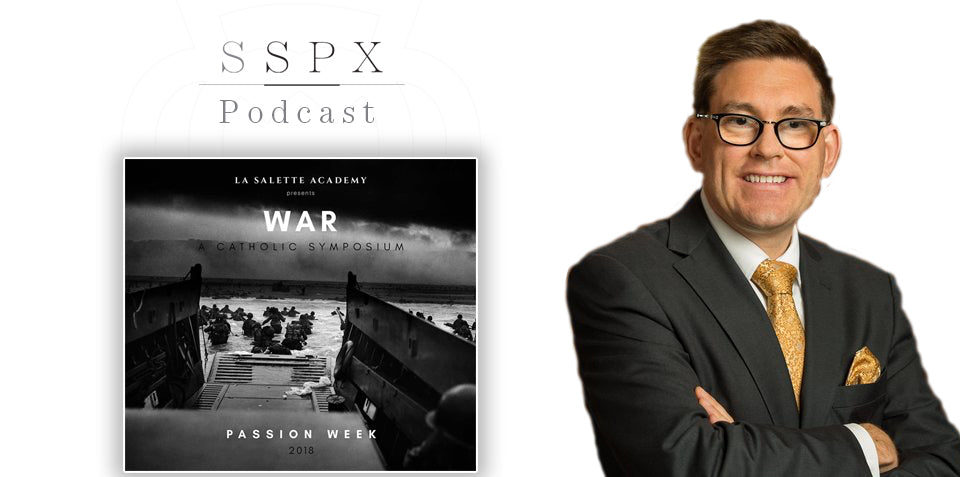 Dr. Brian McCall is no stranger to many traditional Catholics, having spoken at the Angelus Press Conferences over the years, and written articles for The Angelus itself. After a distinguished academic record at both Yale and Kings' College in London, where he received his Doctorate, he has taught law at the University of Oklahoma for 12 years. His contributions as a legal mind and historian have been invaluable to the cause of Tradition over the past decade.
During this past Passion Week, in 2018, he served as one of the panelists at the War Symposium, produced by La Salette Academy, an SSPX boys' boarding school. During this series of lectures, he spoke on the theory of Just Wars, and participated in a debate on the Civil War itself.
A reader on the sspx.org website had recently submitted a question about the appropriateness of a Catholic joining the military, when he may be asked to participate in conflicts that contradict St. Thomas Aquinas' definition of a Just War. The editors of the site considered it to be a perfect topic to pose to Dr. McCall, and to discuss his recent appointment as editor of Catholic Family News.
While a 20-minute podcast interview is no substitute for hearing the full lecture from Dr. McCall (or the full symposium, for that matter), this interview touches on one particular aspect of Just War philosophy - that of participation.
The episode is available below, and we encourage you to discover more on this complex topic by listening to the War Symposium audio set.


For more podcast episodes from the SSPX, the links are provided below as well. 
To subscribe to the podcast on iTunes
To Subscribe to the podcast on Stitcher
---